Automobile
Driving Without Insurance in Indiana: Everything You Need to Know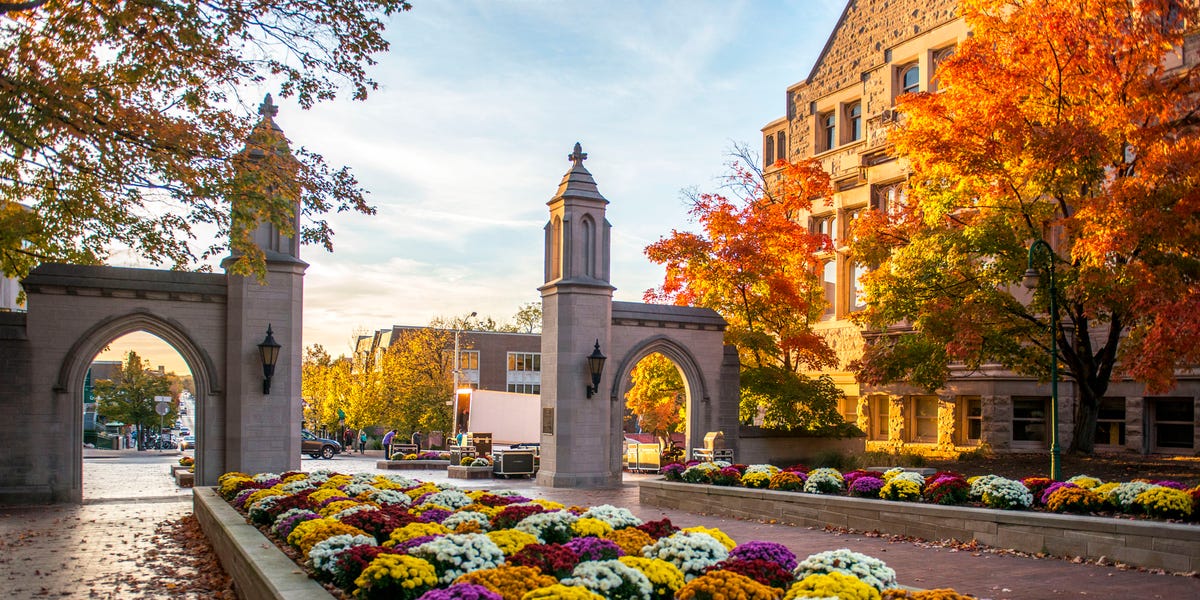 Ying Luo / 500pxGetty Images
Indiana law mandates that all drivers carry a minimum amount of car insurance to operate a motor vehicle on state roadways. If you get caught driving without insurance in Indiana, you can face severe penalties and financial losses.
Indiana Car Insurance Requirements
According to Bankrate, Indiana requires all drivers to carry liability coverage, uninsured motorist coverage, and underinsured motorist coverage. To meet Indiana's minimum requirements, Indiana drivers should make sure that their car insurance policies include:
Bodily injury liability: $25,000 per person/$50,000 per accident
Property damage liability: $25,000 per accident
Underinsured motorist bodily injury: $50,000 per person/$50,000 per accident
Uninsured motorist bodily injury: $25,000 per person/$50,000 per accident
Uninsured motorist property damage: $25,000 per accident
As Bankrate notes, while meeting Indiana's minimum insurance requirements fulfills your legal responsibilities, it might not be enough to cover the costs of a severe accident. Bankrate suggests you raise your limits so that you don't have to pay out of pocket for repairs and medical care.
How Much Do Indiana Drivers Pay for Car Insurance?
The Zebra reports that Indiana drivers pay, on average, $1133 a year for car insurance. That's 20.6 percent less than the national average. Many Indiana residents live in rural areas without as many vehicles on the road as more densely populated cities. That's one reason why Indiana drivers enjoy lower insurance rates.
What Are the Penalties for Driving Without Insurance in Indiana?
According to ValuePenguin, in addition to purchasing car insurance, you must carry proof of insurance in your vehicle at all times. If you have insurance, but you can't provide proof when a law enforcement officer requests it, you have 40 days to provide a certificate of compliance. After those 40 days, the state will typically suspend your license if you haven't submitted your certificate. The state will remove the suspension from your record once you or your insurance provider submits the certificate.
ValuePenguin reports that if you operate a motor vehicle without purchasing car insurance and it's your first offense, you could face the following penalties:
A $250 reinstatement fee
A 90-day license suspension
An SR22 certificate for three years
The penalties for a second offense include:
A $500 reinstatement fee
A one-year license suspension
A one-year vehicle registration suspension
An SR22 certificate for three years
Third and subsequent offenses will result in the following:
A $1000 reinstatement fee
A one-year license suspension
A one-year vehicle registration suspension
An SR22 certificate for five years.
Bankrate points out that in addition to legal penalties, you could face some major financial consequences for driving uninsured. If you're responsible for an accident, the other driver can sue you. If they win the lawsuit, you'll have to pay for their repairs and medical care out of pocket. You'll also have to pay for damages to your vehicle and your own medical care out of pocket.
Affordable Car Insurance Options for Indiana Drivers
Because car insurance in Indiana is relatively inexpensive, it makes much more sense to purchase a policy than to risk the legal and financial consequences of driving without insurance. The Zebra gathered quotes from leading providers to find the most affordable options for Indiana drivers. Here's what they found:
Travelers: $608 a year
Pekin Insurance: $815 a year
USAA: $867 a year
Erie: $935 a year
State Farm: $1079 a year
Indiana Farmers Mutual: $1249 a year
Progressive: $1571 a year
Allied: $1588 a year
Sentry: $1952 a year
Hanover: $4802 a year
Keep in mind that the above quotes are average rates. As The Zebra notes, you may pay more if you're in a high-risk age group, you have a poor credit rating, or you have a spotty driving record.
Car Insurance Discounts for Indiana Drivers
Even if you're in a high-risk group, you can save money on your car insurance by qualifying for discounts. Bankrate suggests you ask your insurance agent about:
Multi-policy discounts: If you insure your home with the same insurance company that provides your car insurance, you could receive a multi-policy, or bundling, discount. Many providers also offer multi-vehicle discounts for insuring all of your household's vehicles with the same provider.
Mileage discounts: If you have a short commute, work from home, or aren't otherwise on the road very often, you could qualify for a low mileage discount.
Affiliation discounts: Many insurance companies offer discounts to customers who belong to clubs and professional organizations. Your insurance provider should have a list of approved organizations available on their website.
Student discounts: If you have a teen driver on your insurance policy they can qualify for a discount by completing a driver safety course. They can also get a good student discount for maintaining a 3.0 GPA or higher. Many providers also offer good student discounts to college students under the age of 25 and distant student discounts if they only drive their car when at home.
Non-Owner Car Insurance
As WalletHub points out, while it isn't illegal to drive someone else's car if you don't have insurance, it's still a good idea to purchase non-owner car insurance. A non-owner car insurance policy will protect you if you frequently borrow or rent vehicles because you don't own one. It will also allow you to maintain continuous coverage, so if you do end up buying a car, you'll have an insurance history that providers can look at when you purchase conventional car insurance. You can also use your non-owner car insurance policy to obtain an SR22 form if you need to reinstate your driver's license.
As you can see, the penalties you can face for driving without insurance aren't worth the risk. Take your time to shop around for an insurance policy and you can get excellent coverage at a fair price while meeting Indiana's legal requirements.
Check this out if you need additional information, resources, or guidance on car insurance.
Sources:
Penalties for Driving Without Insurance in Indiana | bankrate.com
What's the Average Cost of Auto Insurance in Indiana? | thezebra.com
Penalties for Driving Without Insurance in Indiana | valuepenguin.com
Cheap Indiana Car Insurance | thezebra.com
Best Car Insurance in Indiana for 2021 | bankrate.com
What Is the Penalty for Driving Without Insurance in Indiana? | wallethub.com
Non-Owner Car Insurance: Everything You Need To Know | caranddriver.com
What Is the Best Insurance for SR22? | caranddriver.com
This content is created and maintained by a third party, and imported onto this page to help users provide their email addresses. You may be able to find more information about this and similar content at piano.io
Most Related Links :
dutifulnews Governmental News Finance News