Automobile
View Photos of the 2021 Ford Bronco Black Diamond Manual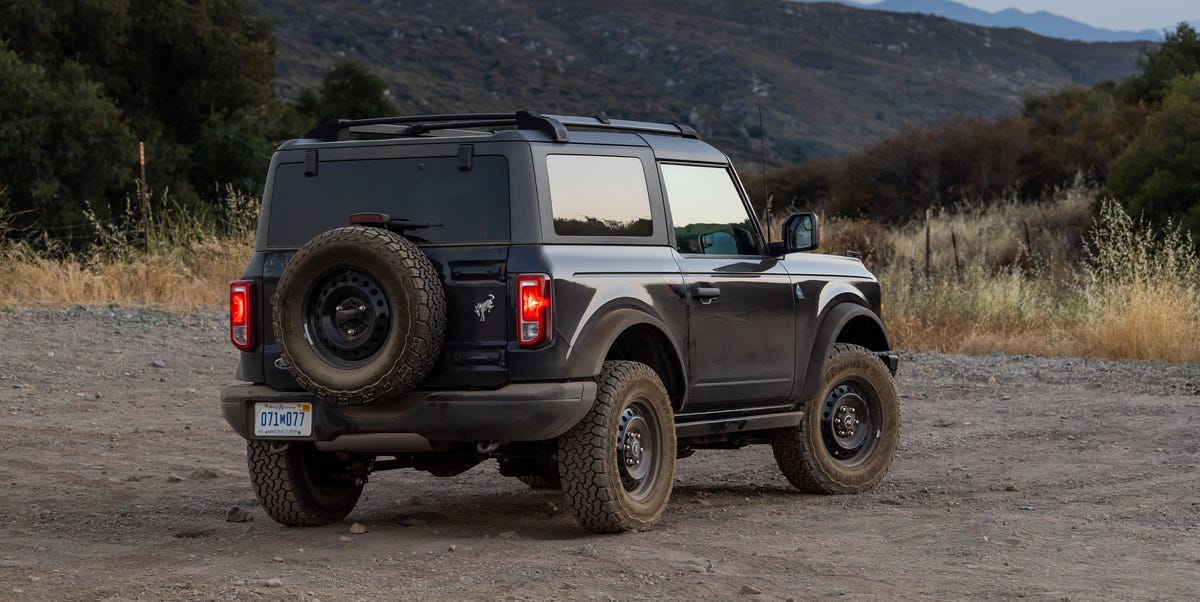 Jessica Lynn WalkerCar and Driver
1 of 45
The manual transmission in the 2021 Bronco has seven speeds.
2 of 45
The manual is available only with the 300-hp, turbocharged 2.3-liter inline-four.
3 of 45
The Black Diamond trim comes with more off-road options than the base model, Big Bend, or Outer Banks.
4 of 45
The grab handles and vents have a techy 3-D-printed look, as though they came straight off a prototyping machine.
5 of 45
You can remove the roof, doors, and front fenders. The top panels above the driver are easily popped off in less than five minutes, and the panels fit in the cargo area.
6 of 45
Among other Easter eggs, like a herd of little horses hidden around the Bronco, we liked the repetition of the headlight and horizontal running light in the shape of the start button.
7 of 45
Calling all dog lovers and sloppy eaters: The Black Diamond trim has a waterproof interior you can hose out after a messy adventure—or after lunch.
8 of 45
The Bronco's G.O.A.T. dial makes choosing the right off-road setting a cinch, even for beginners.
9 of 45
The Bronco's upright windshield and boxy corners make it an easy horse to ride, be it in the dirt or in a parking garage.
10 of 45
It's not particularly quick, but the Bronco is a blast to drive, with a comfortable ride and surprisingly good handling.
11 of 45
2021 Ford Bronco Black Diamond
12 of 45
2021 Ford Bronco Black Diamond
13 of 45
2021 Ford Bronco Black Diamond
14 of 45
2021 Ford Bronco Black Diamond
15 of 45
2021 Ford Bronco Black Diamond
16 of 45
2021 Ford Bronco Black Diamond
17 of 45
2021 Ford Bronco Black Diamond
18 of 45
2021 Ford Bronco Black Diamond
19 of 45
2021 Ford Bronco Black Diamond
20 of 45
2021 Ford Bronco Black Diamond
21 of 45
2021 Ford Bronco Black Diamond
22 of 45
2021 Ford Bronco Black Diamond
23 of 45
2021 Ford Bronco Black Diamond
24 of 45
2021 Ford Bronco Black Diamond
25 of 45
2021 Ford Bronco Black Diamond
26 of 45
2021 Ford Bronco Black Diamond
27 of 45
2021 Ford Bronco Black Diamond
28 of 45
2021 Ford Bronco Black Diamond
29 of 45
2021 Ford Bronco Black Diamond
30 of 45
2021 Ford Bronco Black Diamond
Advertisement – Continue Reading Below
This content is created and maintained by a third party, and imported onto this page to help users provide their email addresses. You may be able to find more information about this and similar content at piano.io
Most Related Links :
dutifulnews Governmental News Finance News